Recently I had the opportunity to serve as a judge at the AFP Las Vegas Mission Pitch event. Leaders from ten nonprofit organizations participated boldly and courageously. They had only 6 minutes—yes, you read that correctly—6 minutes. In that timeframe they had to cover the following:
Definition of the problem and opportunity
Solution to the problem and opportunity
Impact of the solution and idea
Presentation style
It sure was tough to score them because everyone gave it their all and had elements that worked really well. In a perfect world, I would have been able to take nuggets from each pitch to combine into one glorious masterpiece! No surprise– this wasn't an option, so I settled for writing this blog post instead in hopes it will provide some refreshers that will benefit you and your organization moving forward.
What do you need to do to ensure an effective mission pitch?
Get crystal clear with your ask and what a donor can do to support you. This is not the time to fit everything but the kitchen sink into your pitch. The clock is ticking, which means you need to focus on one piece of your program or organization that needs support. The more specific, the better. Invite the donor into your story, showing how they can be the hero to those you serve. Afterall, any ask—even an operational ask or capacity building support—supports your clients. Paint a clear picture for the donor, so they can imagine the possibilities and transformation of their donation.
Make the big, bold ask upfront. Too often there is small talk, beating around the bush, and eventually we get to the point. The problem is that both in written form (mail and email) and even in person or via phone, the longer we talk or the longer the sentence, the more likely we are to lose the very person whose attention we seek. Keep it simple and put the important information first. Then explain.
Start and end with a bang. People often remember the beginning and end of presentations, so using that logic, you want to ensure both are strong. Perhaps you draw in the listener with a question… "Did you know…" and then get quickly to the big, bold ask, as noted above. At the end of your pitch, you might ask another question that brings it back to the donor… "Will you become a part of our story through your donation today?"
Be intentional with your visuals. Seth Godin, a marketing extraordinaire, says it better than I ever will. Below is a recap of three of his non-negotiables when it comes to PPT. Follow these basics and you will have a PPT that engages rather than distracts:
Not more than six words. EVER. On each slide.
There will be no corny visuals. Instead, use professional photos from corbis.com. Each one costs $3, or a little more if they're for 'professional use.'
There are no dissolves, spins, or other types of transitions.
Invest the time. Distilling lots of information into a brief pitch, an elevator speech, or a grant narrative that only allows 10 characters (okay, I may be exaggerating a tad…) takes TIME. It is easier to regurgitate hoards of information with no organization, streamlining, tailoring, and customizing to your target audiences. The next time you are presented with an opportunity to deliver your mission pitch in 6 minutes or less, practice. Cut what you don't need. Practice again. And so the drill continues. This can be one of the greatest skills you ever gain, and whether you win the pitch competition or not, you will reap the long-term dividends.
Hat tip to you,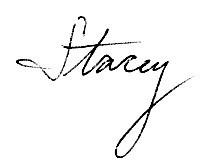 P.S. Do you want to get updates on our most recent blogs and other free resources we offer? Sign up here for our bi-monthly e-newsletter, The SWGazette.